Change the Street, Change the World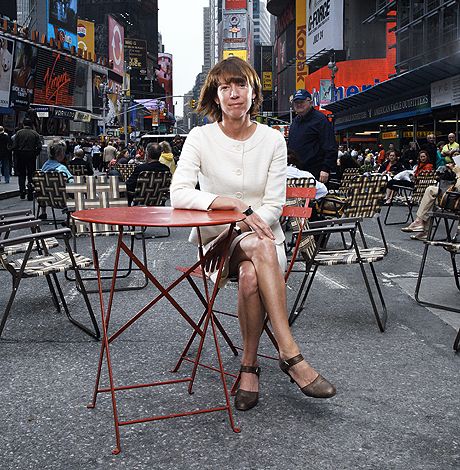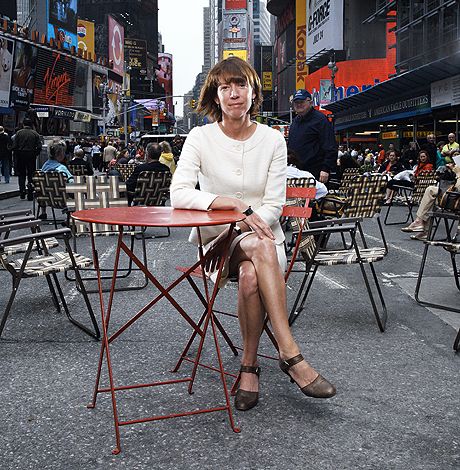 On Tuesday afternoon I received a text message from my friend Christine Acosta, with Pedal Power Promoters. It was a last minute invite to join a group of representatives from organizations throughout our city engaged in work on behalf of local pedestrians and cyclists. The city had invited this small group to meet with Janette Sadik-Khan, one of the world's foremost authorities on transportation and urban transformation. Apparently she noticed my name had somehow not made the invite list and she threw a Hail Mary of an invite as she thought it was important for WellBuilt Bikes to be there as a representative of folks on the streets. Fortunately, the shop was well staffed and I was able to duck out to race across town and join them.
Janette Sadik-Khan was appointed commissioner of the New York City Department of Transportation in 2007. For six years, she managed nearly 5,000 employees and was responsible for the operation and management of some 6,300 miles of streets throughout the city's 5 boroughs.
Despite her access to a budget of some $2 billion, Sadik-Khan adopted a designer's approach to urban innovation: rapid testing and regular iteration. In other words, she would try an idea to see if it would work; if it didn't, she would try something else, no harm done. In Times Square, an iconic New York City location visited by 350,000 people every day, this involved the creation of pedestrian zones by painting the asphalt and putting up some lawn chairs. The success of the approach allowed her to create 50 pedestrian zones throughout the city by re-purposing 26 acres of space previously allocated to cars. In 2013, she helped to introduce the instantly-popular Citi Bike bicycle-sharing program to the city, making New York one of the cycling capitals in the United States.
She is a founding principal with Bloomberg Associates and works with mayors around the world to re-imagine and redesign their cities. She also chairs the National Association of Transportation Officials/Global Designing Cities Initiative, implementing new, people-focused street design standards, which have been adopted in more than 150 cities across the United States and around the world. We are pleased to find out that The City of Tampa and the Tampa Downtown Partnership have invited her to come to Tampa, meet with stakeholder representatives from around the city and help Tampa apply such people-focused street design standards here in our own city!
Streets comprise more than 80% of public space in cities, but they often fail to provide their surrounding communities with a space where people can safely walk, bicycle, drive, take transit, and socialize. Tampa hopes to join the collection of US cities leading the movement to redesign and reinvest in our streets as cherished public spaces for people, as well as critical arteries for traffic. This is good news for those of us that are taking seriously that charge to be pedestrian!
Watch Janette's incredibly inspiring and insightful TED talk below!