Check on G'Ma & Say Goodbye to 3G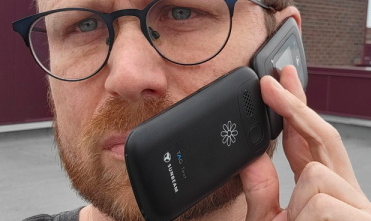 On Monday night, outside of Waters Avenue Church there were about 35 neighbors waiting for The Well's Kinship Free Market to begin. Most of the faces are familiar as this opportunity to get groceries happens every Monday at 6:30pm. This is a great group to gather with to hear about the word on the streets as it is a space where many conversations unfold. Some vent about challenges they face, while others share about opportunities they have discovered, and many compare notes about navigating similar circumstances in our city. This week, an older gentleman was venting about his frustration with his phone not working. He was holding up a flip phone and talking about the challenges he has been facing with it. While that initially seemed like a very specific issue with his phone, others started sharing similar issues. Come to find out, 3G networks have started shutting down. AT&T has already discontinued their 3G network and all of the other carriers are scheduled to sunset their 3G over the next month or two.

While many of us have phones that are 4LTE or 5G networks, there are still a good number of neighbors using older phones that still use 3G networks. If you are wondering when this is happening, here is that information from the FCC website:
As early as January 1, 2022, though plans and timing to phase out 3G services will vary by company and may change. Consult your mobile provider's website for the most up-to-date information.
AT&T announced that it will finish shutting down its 3G network by February 2022.
Verizon announced that will finish shutting down its 3G network by December 31, 2022.
T-Mobile announced that it will finish shutting down Sprint's 3G CDMA network by March 31, 2022 and Sprint's 4G LTE network by June 30, 2022. It also announced it will shut down T-Mobile's 3G UMTS network by July 1, 2022, but has not yet announced a shutdown date for its 2G network.
If your mobile carrier is not listed here, you may still be affected. Many carriers, such as Cricket, Boost, Straight Talk, and several Lifeline mobile service providers, utilize AT&T's, Verizon's, and T-Mobile's networks.
Note: These are dates for completing the shutdowns. Carriers may begin retiring parts of their networks sooner.
If you have a phone from one of these carriers, they will probably be contacting you to encourage you to upgrade and in many cases are willing to cover the upgrade. Unfortunately those who have handed down phones, cheap 'burner' style phones from the gas stations, or any phones not acquired through the network providers, will probably be stuck with a useless phone very soon.

Much like the line outside of the Free Market, there are many neighbors that still use older style flip phones. In our experience this is often a choice made by older generations because it is familiar and easier to use than a smartphone. For others it is simply a reality of material poverty and the accessibility of such tools. In either case there are about to be many elderly and poor folks with phones no longer working. Many use these phones to call doctors, social workers, potential employers, and we know a good number that utilize public transportation services for people with disabilities that they are able to call for a ride. We wanted to take an opportunity to highlight this situation as access and communication is a commodity that we often take for granted and may do well to think about the potential effects of losing such utility. We also want to encourage each of you to be good neighbors to those around you. Ask your friends and neighbors if they know about this change. On most phones you can just look for the type of signal it is using at the top of the homescreen. Check on your parents and that man you see panhandling each day on your way to work. Make sure they know about the changes and have a plan to obtain a working phone.

If you do find someone that needs help and really wants to still use a flip phone, here is a section that we pulled from an article on PCmag.com with a few resources.

Most people who this shutdown will affect either have hand-me-down smartphones or older flip phones. The good news is that every carrier offers 4G voice phones; you can also purchase them unlocked. The phones range from inexpensive and basic, to fancy and classy. Some of our recent reviews include:
We hope this article does a few things:
We hope it informs you and helps in your efforts to pay attention to what's happening
We hope it illustrates the value of being pedestrian, talking to neighbors, and spending time mingling with others on your streets.
We also hope it prompts you to engage some of the older and less advantaged folks in your life, even if just to check in and make sure they will still have a working phone.

Until next time, be pedestrian.