Lentils 102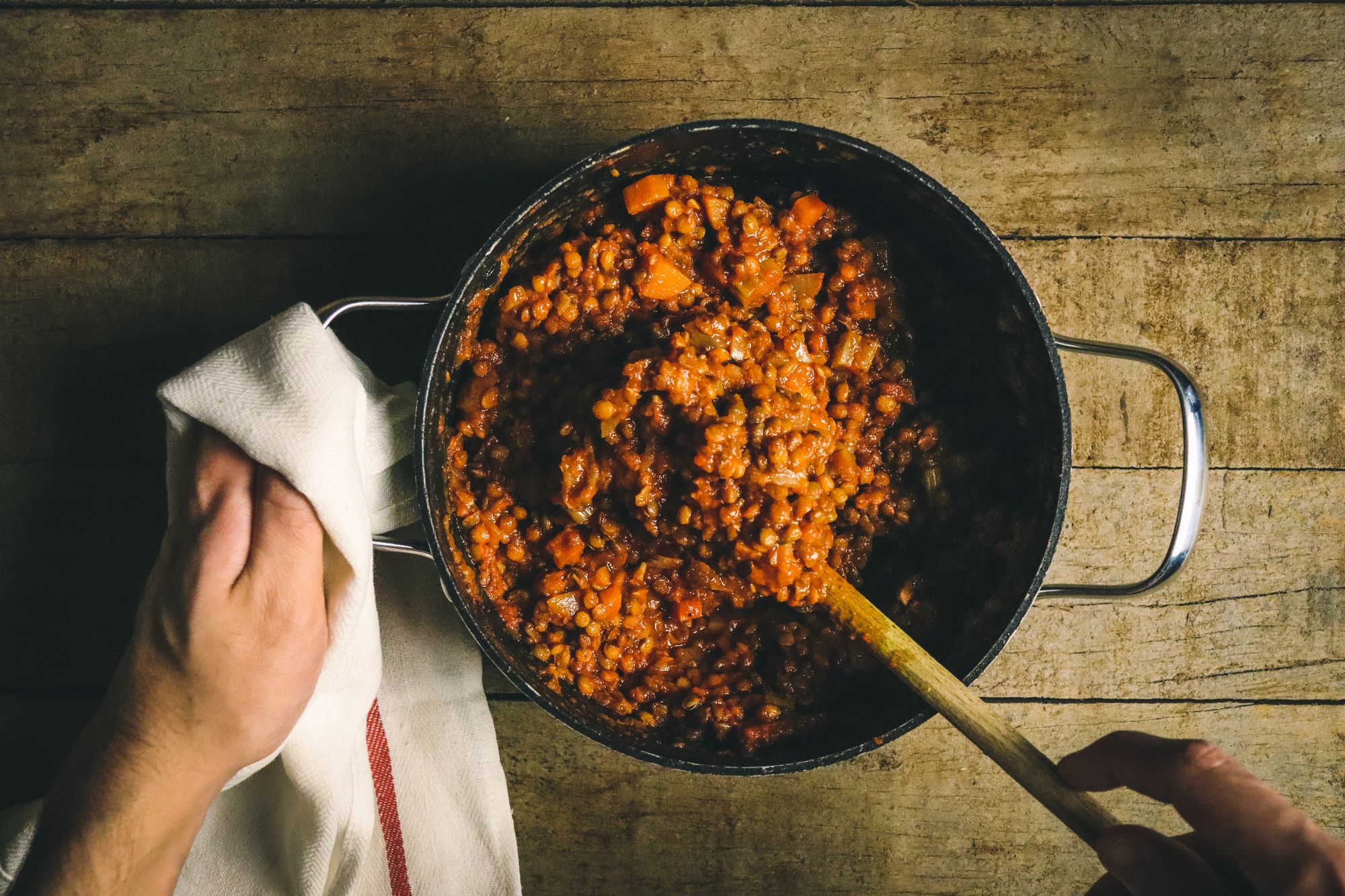 So how are lentils prepared?!
A misconception I had about lentils is that I thought I had to soak the lentils prior to cooking them just like beans but that's not necessary at all. This makes lentils a quick protein source for meals and snacks.  
To prepare them, rinse them under cold water to clean them and pick out any stones. Put them in a large pot and cover with 2 inches of water. You can add salt to bring out their flavor but it's not necessary. Then bring the water to a boil and simmer and cook uncovered for 20 – 40 minutes depending on the variety. Make sure to check the label to find out how long to cook the lentils.  Beware: if you overcook them, they do get mushy, especially brown lentils. So, as you cook them, check for texture periodically. You may indeed want them to be mushy if you are interested in making a lentil dip or the popular lentil hummus.
Lentils are very versatile. They can be used to make lentil soup and added to stews to increase thickness and the nutrition content. They can be made into a salad once the lentils have cooled. They can also be used to make hummus, spreads, dips, added to protein bowls, pasta, and salads as well. You can also substitute half the ground meat or poultry with lentils in various dishes.
Recently I had the pleasure of preparing lentils for the community at WellFed Community's demo at Harvest Hope Park. We were wondering what to offer and decided on lentils as they are known to bring good luck in many cultures such as Brazilian and Italian for the new year.  We chose an Italian recipe, which we have shared here. I also included my mother's dal recipe. At the demo, the Italian lentil recipe was a huge hit! Many community members described it as "delicious" and were interested in making this wonderful and easy to make dish at home.
Dal or Dhal
Ingredients
1 c yellow lentils
½ tsp turmeric powder
½ chopped tomato
½ chopped yellow onion
1 or ½ of a green chili- remove seeds if you want less heat
2 T ghee or olive oil
1 tsp of black mustard seeds – can obtain from Indian grocery store
Pinch of asafetida- can obtain from Indian grocery store
4 or 5 curry leaves – can obtain from Indian grocery store
¼ c chopped cilantro
Salt to taste
Wash 1 c yellow lentils and pick out any stones
Add 3 c water in a heavy saucepan and ½ tsp turmeric powder
Cook until soft on medium heat
Keep checking the lentils to make sure they don't burn or get too mushy
After they have cooked add salt to taste, chopped tomatoes, chili pepper, and tomatoes and mix
In a separate pan, heat ghee or olive oil and add mustard seeds and asafetida and curry leaves. Heat until you hear the mustard seeds pop.
Then add the oil, mustard seeds, asafetida and curry leaves to the dal
Mix in minced cilantro and adjust salt to taste
Eat with rice, by itself or chapati / roti.  Enjoy!
References:
https://fdc.nal.usda.gov/index.html
https://wicworks.fns.usda.gov/resources/what-do-i-do-lentils
https://www.cucinabyelena.com/italian-style-lentils-new-years-classic/
Author: Prathima Kannan, MPH, RD