Strawberries and Picky Eating
Every time I volunteer for WellFed Community's monthly cooking demo, I see children everywhere: children in the garden, at the playground, and waiting in line for food distribution with their families. Most of the children have been more than happy to try the foods we offer at the demos, but sometimes, there are a few children completely unwilling to try a new food or recipe.
"Picky eating" or "choosy eating" in childhood is very common. Snack and mealtimes can be frustrating for parents and distressing for youth. Fortunately, there are ways to combat this and create adventurous and curious eaters. It is so important for children to eat a balanced and broad diet of fruits, vegetables, carbs, and protein. The more variety in their healthy diet, the more nutritious and beneficial for the body.
During the last food demo at Harvest Hope Park, we featured strawberry salsa. It was a simple recipe made with few ingredients: seasonal strawberries (which were the surplus ingredient in the WellBuilt Food Pantry), lime juice, red onion, cilantro, and a little salt. During this and every demo, we used many strategies to encourage children and older youth to try our featured healthy food.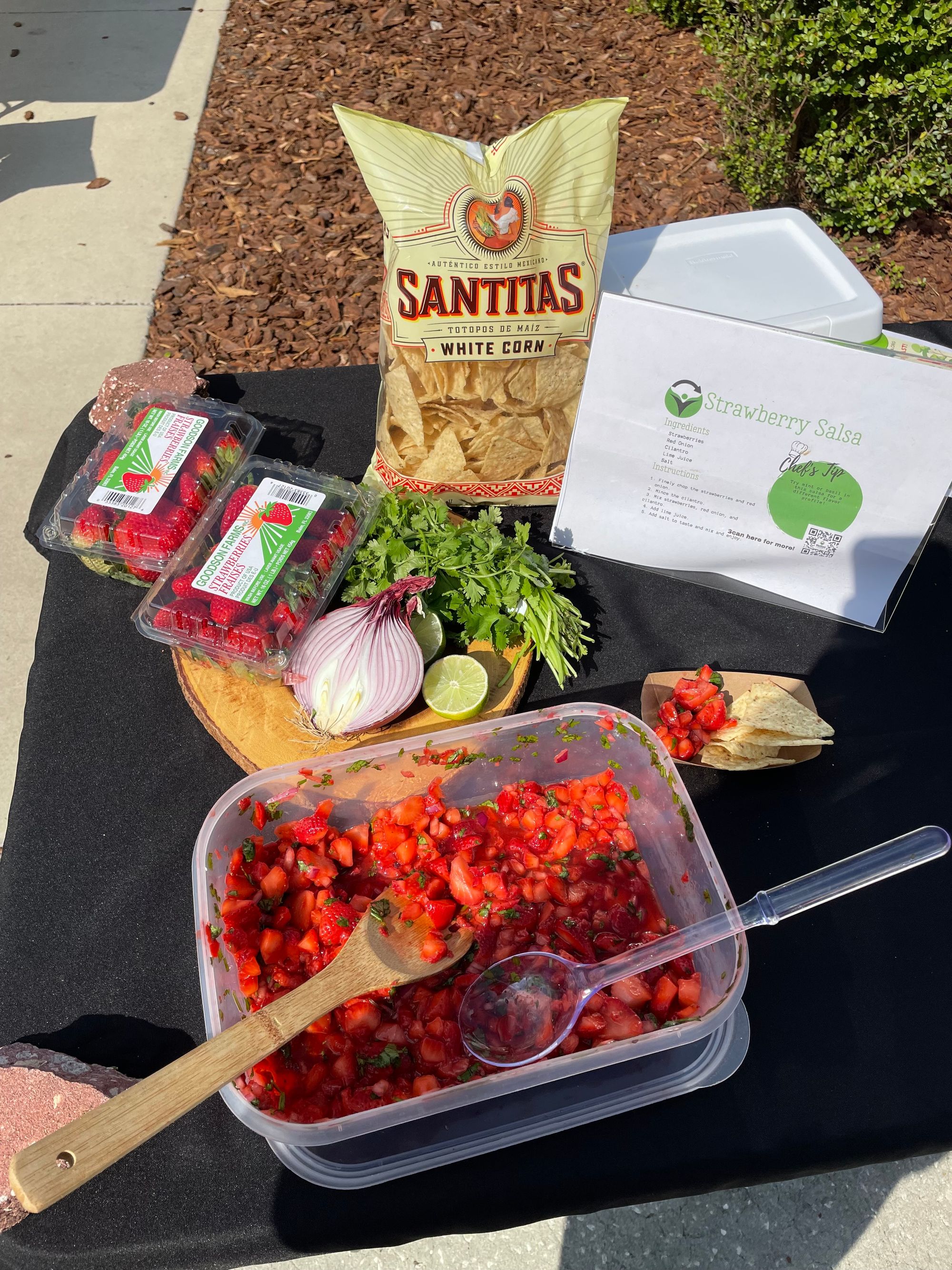 I want to share a few low-key strategies that parents could try with their children—at home or when out and about—to get kids excited about new foods and recipes.
Involve Them In Preparing Food
In our cooking demo, we displayed the ingredients to help youth see how to make the recipe. Recipe cards were offered, and everything was presented on a table in an appealing way. At home, parents can break down the recipe, too. Read the recipe with your children and display the ingredients on the countertop. Also, you can involve them in the cooking process with responsibilities appropriate for their age. For example, have one child read the recipe out loud, wash the produce, season, or stir. Older children can help with chopping.
Model Healthy Behaviors for Your Children
Whenever parents try something that I offer at a demo, their children want to taste it, too. If the parents like it, the kids pick up on that and are more eager to try it. Encouragement from parents also helps. Whenever possible, eat family meals together, and model healthy and adventurous eating. Children often watch and adapt habits from parents, older siblings, and peers. When the rest of the family eats well balanced meals that include fruits and vegetables, children are more likely to do the same. And when parents show a willingness to try new foods, kids will, too.

Show an Interest in Learning About Food, Nutrition, and Cooking
I saw many parents model healthy behavior at the demo by showing interest in the strawberry salsa, asking how to make it, and listening intently when I was sharing the benefits of strawberries. Just seeing the parents' excitement sparked excitement in the children. Children take an interest in what their parents are interested in. During each demo, I like to highlight some fun facts about food and nutrition. Here are a few about strawberries:
Strawberries originated in Europe in the 18th century and are a hybrid of 2 wild strawberry species from North America and Chile.
You can find fresh strawberries in the grocery store any time of the year, but they're best during spring and summer, because that's when they're in season locally.
It's strawberry season right now in Florida — so the strawberries we featured at the demo were fresh.
It's best to choose organic strawberries to avoid pesticides commonly used in conventional growing.
Strawberries are a great source of vitamin C, an antioxidant necessary for immune and skin health.
Pair Something New with Something Familiar
I paired the new recipe, strawberry salsa, with a familiar favorite snack —tortilla chips. Try serving unfamiliar foods or flavors that young children tend to dislike at first (sour and bitter), with familiar foods they naturally prefer (sweet and salty). Pairing bitter broccoli with salty grated cheese, for example, is a great combination for young kids.
Make a Game Out of It
This helps kids associate healthy eating with positive thoughts and feelings. It is more enjoyable to talk about and learn about food when it's fun, making it accessible and likely to hold their attention. One idea for a game is to come up with as many ways to eat the item as possible. Here are some ideas for strawberries: strawberries can be used to sweeten yogurt, cottage cheese, and hot or cold cereals; blend frozen strawberries into smoothies with bananas, spinach, and yogurt; chop fresh strawberries to add to salads, side dishes, or salsa; and dip them into nut butter or dark chocolate for a sweet, fiber-rich treat.

Appeal to Their Senses and Make it Fun
At this demo, I offered a familiar food – salsa – in a unique and adventurous way, making it with fruit instead of vegetables. Children are especially open to trying foods arranged in eye-catching, creative ways. Make foods look irresistible by arranging them in fun, colorful shapes kids can recognize. Finger foods are also usually a hit. The strawberry salsa is very appealing to the eye – ruby red with specks of green from the cilantro and purple from the red onion. Help your child explore new flavors and textures in food by adding different herbs and spices to simple meals.

Help Kids Learn Where Their Food Comes From
Kids can learn where their food comes from by growing a miniature garden in the backyard or a container garden. Plant easy-to-grow foods that the child might otherwise resist trying, such as spinach or sweet peppers. Children love to use their hands and get dirty by helping out in the garden, and it is especially rewarding to make a meal from something they grew themselves. You can also go on a family field trip to visit a local farm!
Let Your Child Choose
Children should be able to choose what and how much to eat from what's offered. No pressure. At the same time, avoid offering separate meals or snacks if they refuse to eat. Instead, be sure to include at least one food at meals and snacks that the child already likes. Allow them to reject or refuse a food, but still offer it again later. It can take children 15-20 tries to like a new food. Repeated exposure may help a rejected food become a new favorite. This will help them recognize and stay in touch with their hunger and fullness cues as well.
With these simple strategies, kids can broaden their tastes and become adventurous with eating. Here are some recipes you can try at home!

Strawberry Salsa


Strawberry Jam
By Prathima Kannan, MPH, RDN, LDN